Nirmala Sitharaman says reducing the compliance burden among top priority areas for government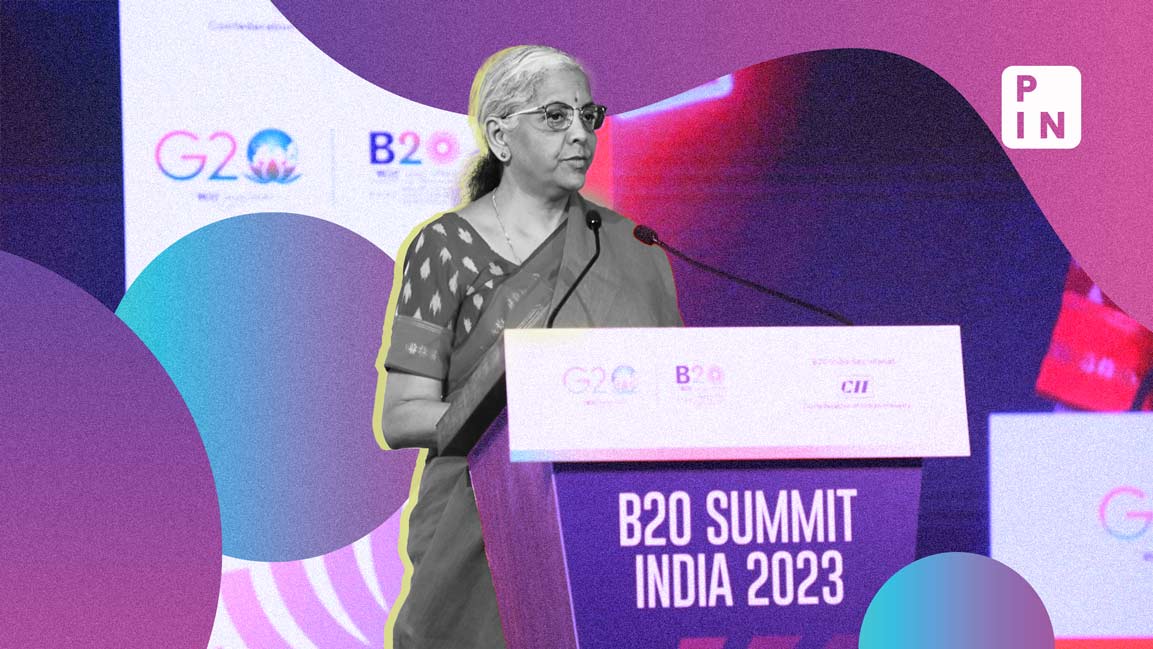 India is going forward anchored on an Aatmanirbhar Bharat (a self-reliant India), with the government's key priority areas being building infrastructure and reducing the compliance burden, Union finance minister Nirmala Sitharaman said on Friday.
Aatmanirbhar Bharat is an initiative by the Indian government to promote self-reliance and boost domestic manufacturing and services.
Addressing the B20 business forum on the key priorities for sustained global economic recovery, the finance minister said that taming inflation, increasing investments in infrastructure to spur growth, focusing on investments in public health and education, climate change finance, and diversification of supply chains should be the focus areas. The B20 business forum is a gathering of business leaders from the Group of 20, or G20, nations to discuss and influence global economic policies.
Explaining how India's Aatmanirbhar Bharat policy is not against globalization, Sitharaman said, "Initial doubts that people had about Aatmanirbhar Bharat, whether it is an inward-looking India we are planning; whether we are going to stop imports, are quelled. Aatmanirbhar is more for India to be sure that every sector of its economy can grow; if some essential imports have to come in, we are not going to stop that."
She also said the government is making sure that compliance won't be a festering problem by removing archaic laws, which are ongoing.
"Under the PM Gati Shakti program, the government is getting layers of information as to where the obstructions for speedily taking a decision lie. It is now easy to cull them out," she said, while elaborating on how the compliance burden is being eased. The PM Gati Shakti program is a government initiative aimed at improving coordination among various ministries and departments to fast-track infrastructure development.
"The government recognizes that FDI (foreign direct investment) flows are vital for India's growth story. So, simplification and rationalization of foreign portfolio investors' regulations are going through reforms. Increase in aggregate foreign investment limits are being looked into," Sitharaman added.
"A lot of emphasis has been placed on GIFT City, and the place is changing rapidly, particularly post the real-time connection between exchanges in Singapore and India at the GIFT City," she said. GIFT City, short for Gujarat International Finance Tec-City, is an integrated development on the outskirts of Ahmedabad, aiming to provide high-quality physical infrastructure for finance and tech firms.
During the interaction, Sitharaman said the India-UK free trade agreement (FTA) is likely to be announced soon, probably this year itself, with a similar agreement with Canada progressing at a brisk pace. "India is in touch with other nations and even the European FTA (EFTA) is in the pipeline," she said. EFTA comprises Liechtenstein, Norway, Iceland, and Switzerland.
UK trade secretary Kemi Badenoch had earlier this week said that his country's FTA negotiations with India are now in the final stages.
Pointing to China, Sitharaman also said that the impact of a slowdown in that country, particularly in the wake of the multifaceted problems that it faces amid the unavailability of clear data from there, is concerning, but said India is comparatively growing in new-age areas with a transparent and efficient ecosystem.
"While I'll keep a watch on China, even with sparse information, what I will put my energy on is: 'This is the moment for India'. Rather than playing up on the troubles of China, I would rather play up the opportunities that exist in India," she added.