Study suggests limited gains for India in FTA as British PM readies for possible visit to finalize agreement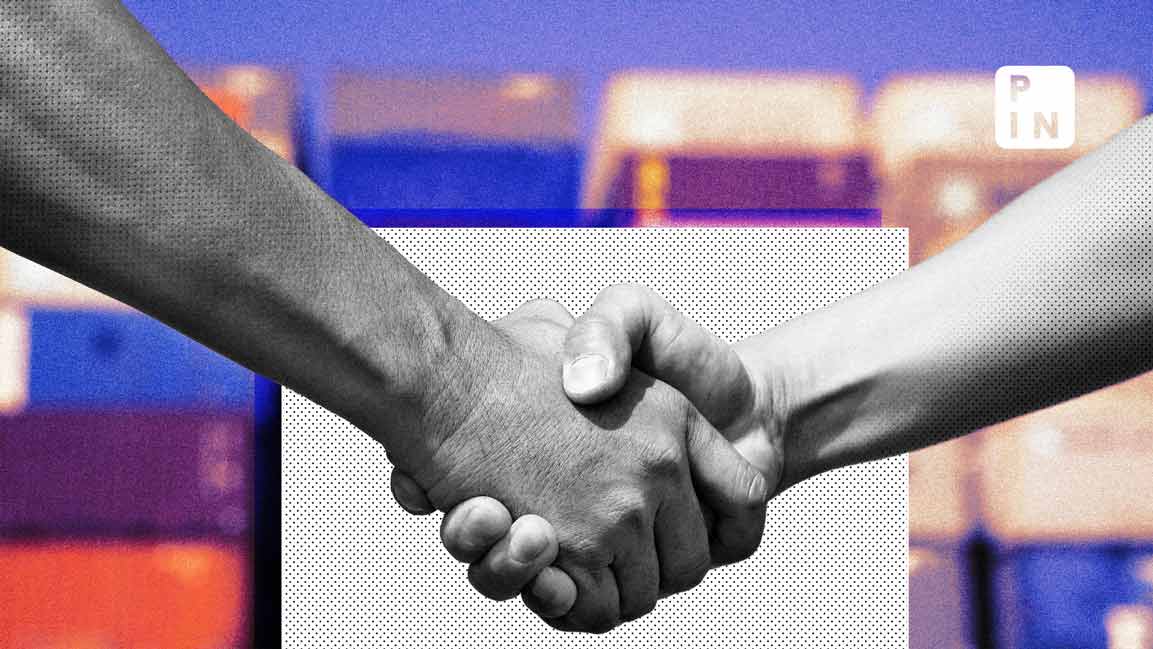 As India and the UK rush to finalize a bilateral free trade agreement (FTA) by the end of the month, a research report suggests that the pact may offer only limited benefits to New Delhi.
The Global Trade Research Initiative (GTRI) found that many of India's exports to the UK already enjoy low or zero tariffs. Therefore, substantial export growth could depend more on improving product quality than on the trade agreement.
Under the proposed deal, India might lower tariffs on cars, scotch whisky, and wines, creating new market opportunities, GTRI noted.
The report also emphasized that India's hesitancy to cut tariffs in sectors such as dairy due to political considerations underlines the need for a selective approach to import liberalization.
Moreover, GTRI pointed out that India may need to adopt more flexible rules of origin as sectors such as chemicals, electronics, and synthetic textiles increasingly rely on imported inputs.
Ajay Sahai, director general of the the ministry of commerce's Federation of Indian Export Organisation, told Press Insider that issues related to rules of origin have been resolved.
These rules prevent other countries from flooding India with goods from third-party nations by merely relabeling them without adding any value, Sahai said.
Other issues under negotiation included data localization and the prohibition against foreign companies exporting data from India, and the potential inclusion of UK companies in Indian public sector bids.
Demands from Indian wine and beverage makers and automakers for a phased reduction in duties were among the negotiation hurdles faced by both countries.
Sahai said both parties appear to have reached a consensus on these matters, though the specifics will only become clear once the agreement is officially signed.
British Prime Minister Rishi Sunak is expected in India on 28 October to finalize the bilateral trade deal. Sunak is also expected to attend the India versus England cricket World Cup match in Lucknow the next day.
"The UK and India continue to work towards an ambitious trade deal as we continue round 13 of negotiations. While we do not comment on the details, we continue to engage with India actively and are clear that we will only sign a deal that is fair, balanced, and ultimately in the best interests of the British people and the economy," a spokesperson for the British High Commission told Press Insider.
"We have closed a majority of chapters, but the hardest one take the longest. Our focus is on the most complex areas, including goods, services, and investment," the spokesperson added.
Total trade between the UK and India in fiscal 2023 was £36.3 billion, a 34% jump from the previous fiscal year, data from the UK Department of Business and Trade showed. In India, the fiscal year runs from April to March.
UK's exports to India during the period were at £14.7 billion, a 44% hike from the year earlier. UK imported £21.6 billion worth of goods and services during the fiscal, a 28% increase from a year ago.
India was the UK's 12th largest trading partner in FY23, accounting for 2.1% of total UK trade.
Sahai said that without the trade agreement, Indian companies are losing ground to rivals from less developed nations.
The UK is a key market for emerging industries such as machinery, electronics, and pharmaceuticals, Sahai said, adding that with the FTA in place, India's exports to the UK will only grow.
He also noted that India's service sector has an edge over most European countries due to its Commonwealth ties and English-speaking population.
India's main imports from the UK are non-ferrous metals, metal ores, power generators, beverages, and scientific instruments. On the other hand, India chiefly exports refined oil, clothing, telecom equipment, power generators, and medical products to the UK.
Imports of non-ferrous metals make up 36.5% of all goods India buys from the UK, while refined oil represents 15.2% of what India sells to the UK.
UK business and trade secretary Kemi Badenoch spoke to a UK parliamentary panel earlier this month about the status of the trade deal.
"We are very close to finalizing the agreement," she said, "but I won't commit to a specific deadline. It will be completed when it's ready."
Earlier this year, Badenoch and Indian commerce minister Piyush Goyal oversaw the twelfth round of FTA negotiations in New Delhi.
"India-UK FTA presents a mixed picture of potential gains and complex challenges. As India and the UK engage in negotiations, the path to a successful FTA will require a delicate balance of economic interests, political sensitivities, and a commitment to improving the quality of traded goods," GTRI said in its report.