Top private lenders are tapping mergers, technology, and expanded offerings as they redefine the future of Indian banking in a financial landscape that is increasingly competitive and innovative
Two leading veteran bankers stepped down from their executive roles at top Indian private banks this year, marking the end of an era in a sector that is turning a corner.
Uday Kotak stepped down this month as chief executive officer and managing director of Kotak Mahindra Bank after 21 years at the helm, while in July, Deepak Parekh retired as chairman of Housing Development Finance Corp. Ltd (HDFC) after a 45-year stint as the mortgage lender merged with its banking arm, HDFC Bank.
The exits of the industry stalwarts put the spotlight on the banking sector that is seeing a turnaround in fortunes after grappling with bad loan issues for nearly a decade.
Following a long-drawn course correction aimed at bringing down bad loans, lenders are now competing with, and often acquiring, fintech companies that leverage technology to develop and offer innovative financial products to rapidly woo younger clients.
A look at the top five private lenders by assets in India:
HDFC Bank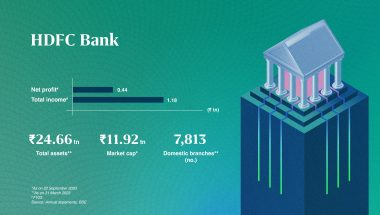 The merger of HDFC with HDFC Bank, effective July 1, has created one of the world's biggest banks with assets totaling close to ₹25 trillion (about $300 billion). HDFC, the parent firm, was founded in 1977 as the first specialized mortgage company in India before it diversified into insurance, asset management and other financial services businesses. HDFC Bank has a customer base of 85 million, apart from the 4 million that it gained from its parent. Following the merger, the bank now boasts a market capitalization exceeding $150 billion, securing an 11% share in advances, 10% in deposits, and a dominant 29% in credit card spending. Sashidhar Jagdishan, the lender's managing director and chief executive who got a three-year extension this week, is the highest-paid bank CEO in India, with an annual pay package of ₹10.55 crore. Shares of the lender were down 7% in the week to 22 September on mixed analysts' views after it shared details of the merged entity in an analyst call.
ICICI Bank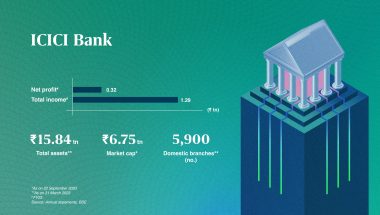 ICICI Bank is the second largest private bank in India by assets. Investment Credit and Investment Corporation of India, or ICICI, was formed in 1955 at the initiative of the World Bank, the government and industry representatives. As the Indian economy grew, the development finance institute expanded its range of financial products and services (including incorporating ICICI Bank in 1995). In 2001, ICICI and its two retail finance subsidiaries merged into ICICI Bank. As on 30 June, the lender has an asset base of ₹15.84 trillion (about $190 billion), total deposits worth ₹11.8 trillion, with advances at ₹10.20 trillion and an employee strength of more than 125,000. The private lender leads in electronic toll collections through FASTag, a digital toll payment system, with a market share of close to 29%. Collections through FASTag jumped by 28% in fiscal 2023. The lender may tap the market to raise about $481 million via longer tenor infrastructure bonds in the next two weeks, Reuters reported on Thursday, 21 September.
Axis Bank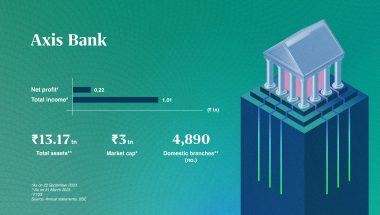 With total assets of ₹13.17 trillion (about $160 billion), Axis Bank is the third biggest private bank in India. The lender was founded in 1993 as UTI Bank, before it changed its name to Axis Bank in 2007. The bank has the largest network of automated teller machines (ATMs) in India at about 16,000. The bank is the fourth largest credit card issuer in the country and is focused on increasing its mix of deposits that stand at ₹9.46 trillion (or a market share of 5%), as on 31 March 2023. In fact, the lender reported the fastest growth (21%) in current and savings accounts (CASA) among peers in the past fiscal, brokerage Motilal Oswal said in its earnings analysis. The bank's chief executive, Amitabh Chaudhry, is the second highest-paid CEO of an Indian bank.
Kotak Mahindra Bank
Established in 1985 and headquartered in Mumbai, Kotak Mahindra Group, the parent of Kotak Mahindra Bank, is one of India's leading financial services conglomerates. In February 2003, the Reserve Bank of India (RBI) awarded a banking license to the group, making it the first non-banking finance company in India to transition into a bank. The lender has about ₹6.2 trillion (about $70 billion) in assets, a customer base of 41.2 million, more than 100,000 employees and about 1,780 branches. Uday Kotak, the founder-promoter who announced his resignation as CEO earlier this month, owns a 26% stake valued at about ₹3.5 trillion, making him India's richest banker. Kotak was caught in a long-drawn dispute with RBI on his stake, before finally settling with the central bank.
IndusInd Bank
Inspired by the Indus Valley Civilization, late UK-based billionaire businessman and Hinduja Group chairman Srichand P. Hinduja, along with members of the Indian diaspora, set up IndusInd Bank in 1994. The lender currently has assets totaling ₹4.58 trillion (about $60 billion); a market cap of about ₹1 trillion; more than 34 million customers; and close to 2,606 branches across India. The private bank features among the top spenders for environmental causes, according to ministry of corporate affairs data. The lender is well on its course in transitioning from a mid-sized bank to a profitable large one, brokerage firm Anand Rathi said this month, adding that its deposit franchise, loan book diversification, and credit-deposit ratio have improved to match the standards of its larger peers.