Cumulative wealth of the 1,319 people on the list has surged to $1.31 trillion, surpassing the combined GDP of Singapore, the UAE and Saudi Arabia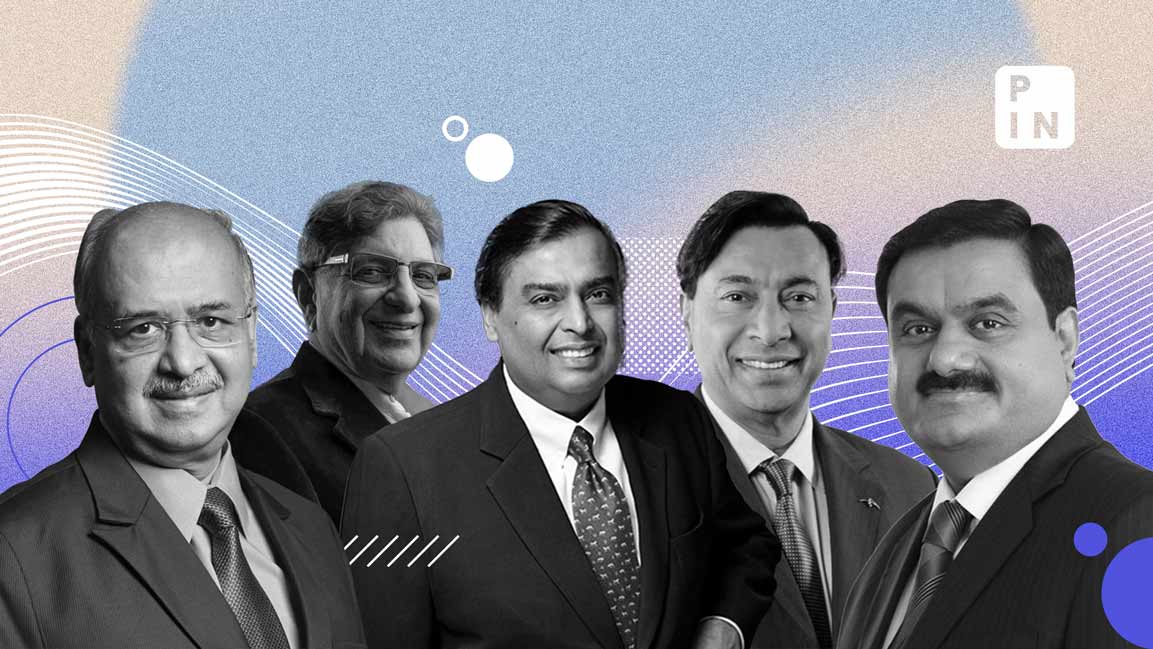 Reliance Industries Ltd chairman Mukesh Ambani has overtaken industrialist Gautam Adani to become the richest Indian in the '360 One Wealth Hurun India Rich List 2023'.
Ambani led the list with a total wealth of ₹8,08,700 crore (about $100 billion), a 2% increase from the previous year.
Adani moved to second place with a sharp 57% drop in wealth to ₹4,74,800 crore (about $60 billion), mainly due to the hit Adani group stocks took following the release of a damning report by short-seller Hindenburg. The wealth calculations are as on 30 August this year.
Last year, Adani was ahead of Ambani by about ₹3 trillion ($10 billion), while, this year, the latter is ahead of the former by about ₹3.3 trillion.
Vaccine maker Cyrus Poonawala continued his hold on the third place in the list with a 36% jump in wealth to ₹2,78,000 crore.
Poonawala was followed by HCL Enterprises chairperson Shiv Nadar and Hinduja Group chairperson Gopichand Hinduja.
Multinational tech firm Zoho's Radha Vembu, at 50, overtook Falguni Nayar to become the richest self-made Indian woman.
The latest list ranks 1,319 individuals–216 more than last year–with a wealth of ₹1,000 crore or more across 138 cities–up by 16.
India has 259 dollar billionaires, 38 more than last year. The industrial products, metals and mining sector added the most new entrants to the list, while the pharmaceuticals sector contributed the most entrants at 133.
Grocery delivery app Zepto founder Kaivalya Vohra, at 20, was the youngest in the rankings, while streaming data technology firm Confluent co-founder Neha Narkhede, at 38, is the youngest self-made woman entrepreneur on the list.
With 328 individuals, Mumbai topped the cities where most of India's rich individuals reside, followed by Delhi with 199 and Bengaluru with 100.
The report highlights that the cumulative wealth of the people on the list has surged to ₹109 trillion, surpassing the combined GDP of Singapore, the UAE and Saudi Arabia.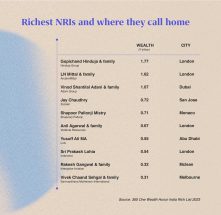 The list has 96 non-resident Indians (NRIs), with 84% of them being self-made. The US is home to 47 individuals on the list, making it the most preferred country for NRIs. The US is followed by the United Arab Emirates and the UK.
Gopichand Hinduja of the UK-based Hinduja family is the wealthiest NRI, followed by another UK-based businessman L.N. Mittal. Dubai, UAE-based Vinod Shantilal Adani comes third on the list.
Meanwhile, Ratan Tata has the most followers on X (formerly Twitter) in the list at 12.6 million, followed by Anand Mahindra, Acharya Balkrishna, Sundar Pichai and Satya Nadella.
Hurun Research taps data available publicly to draw up this list, which is in its 10th year. The source of wealth includes both inherited and self-made wealth.