Total FDI into India in the past fiscal grew 7% to $590 billion from $560 billion in the previous year, RBI data showed
Singapore was the top recipient of Indian corporate investments in fiscal 2023, accounting for 22.3% share of the total, data released by the Reserve Bank of India showed.
Indian companies invested ₹2.03 trillion, or $24.48 billion, in the city-state during the period between April 2022 and March 2023, data showed.
Singapore was followed by the US, which got ₹1.24 trillion, or $14.96 billion, at 13.6% of the total. The UK followed with ₹1.16 trillion and the Netherlands with ₹1.06 trillion.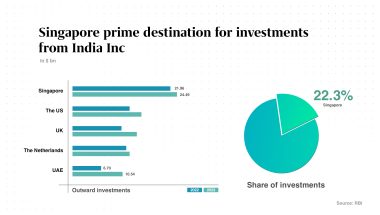 Outwards investments jump
The total outward direct investment by Indian firms jumped 19.46% to $109 billion in the past fiscal year from $88 billion in the previous fiscal.
India Inc's investments in countries having favorable tax laws, such as Bermuda, Jersey, and Cyprus, has marginally changed from the previous year.
In the past fiscal, Bermuda received $1.51 billion, Jersey $1.40 billion, and Cyprus $1.20 billion, against $1.39 billion, $1.58 billion and $1.21 billion, respectively, in the previous fiscal year.
These countries are preferred destinations for corporate investment because of favorable tax laws. Bermuda, located in North Atlantic, has a well-established insurance industry, while Jersey, situated in the English Channel, is a financial centre with a stable political environment, and Cyprus, strategically located between Europe, Asia, and Africa, boasts an educated workforce.
Foreign direct investment
Among countries making investments in India, the US topped the list with ₹8.58 trillion, or $103 billion, in foreign direct investments (FDI) in the past fiscal year, translating into a 17.2% share of total FDI.
Mauritius, UK, and Singapore followed the US, collectively contributing three-fifths of total FDI inflows into India, RBI data showed.
Investments from Mauritius stood at ₹7.43 trillion against ₹7.79 trillion in FY22, accounting for a 14.9% share, while UK contributed ₹7.08 trillion against ₹5.83 trillion in the previous fiscal.
Total FDI into India in the past fiscal grew 6.9% to ₹49.9 trillion ($590 billion) from ₹46.7 trillion ($560 billion) in the previous year, RBI data showed.
The United Nations Conference Trade and Development's World Investment Report published in May 2023 showed that global FDI fell 12% in calendar year 2022.
The report pointed out the widening annual investment deficit that developing countries face as they work to achieve the sustainable development goals by 2030.
Manufacturing corners most FDI
The data has been collated from RBI's annual census on foreign liabilities and assets data covering cross-border assets and liabilities of various companies, limited liability partnerships, alternative investment funds, and partnership firms engaged in inward and outward direct investments.
The data includes the value of assets and liabilities owned by or owed to foreign entities, which include organizations that invest or receive investments from other countries.
Out of the 38,689 entities RBI surveyed, 33,850 reported their foreign direct investments and outward direct investments on their balance sheets as of the end of March 2023.
Over 97% of these responding direct investment entities were unlisted as of March and accounted for a significant portion of FDI equity capital, RBI said.
Meanwhile, the manufacturing sector attracted the biggest share of FDI equity in terms of market and face value, followed by information and communication and financial insurance services.