Millet, once an overlooked grain in India, is now making a dramatic comeback, promising benefits for farmers, consumers, and the environment alike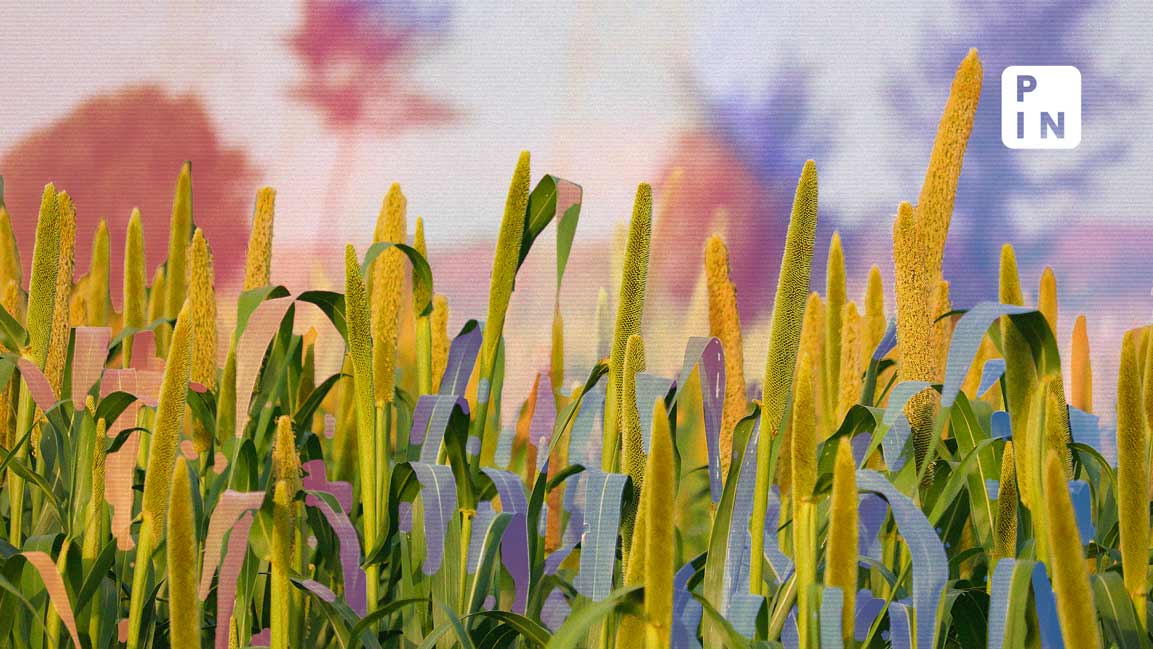 Riding high on the momentum of the UN's designation of 2023 as the International Year of Millets, India is cruising along on its mission to become a production hub of the cereal crop.
The country ranks among the top five millet-exporting nations, with the UAE, Nepal, Saudi Arabia, the UK, and the US lifting most stocks out of India.
Indian farmers cultivate a diverse range of millets, including pearl millet (bajra), sorghum (jowar), and finger millet (ragi). Together, bajra and jowar contribute about 19% of global production, with Rajasthan, Karnataka, Maharashtra, and Haryana comprising the top millet-producing states in India.
In a world increasingly conscious about sustainable agriculture and nutritional health, experts are turning their attention to traditionally grown, hardy crops that are capable of thriving in severe weather conditions.
Climate-smart crop
This is where millets make a difference. Millet crop consumes about 70% less water than rice, grows in half the time as wheat, and requires 40% less energy in processing.
Shoba Suri, a senior research fellow at the think tank Observer Research Foundation (ORF), said, "Millets are climate-smart crops that are critical for enhancing consumer nutrition and safeguarding the environment. They are naturally bio-fortified, can be cultivated in unfavorable weather, and require fewer inputs and fertilizers."
"Research points to the beneficial impact of millet farming in lessening the strain on environmental resources, particularly in areas grappling with climate change," Suri said.
"Consider water conservation-millets demand significantly less water, roughly one-sixth of what rice requires. Where rice requires an average rainfall of 120-140 cm, millets thrive with just 20 cm," she said.
"Moreover, some varieties of millets mature quickly, within 45-70 days, about half the time it takes for rice to ripen, of between 120-140 days. Not only that, millets excel in converting more carbon dioxide into oxygen, thus playing a role in mitigating climate change. They are a resilient crop, capable of withstanding extreme conditions-from intense heat and drought to high salinity, underscoring their status as a climate-adaptable crop," Dr. Suri told Press Insider.
Comeback cereal
Despite these impressive ecological benefits, millets have seen a significant decline in popularity and use over the decades.
Millet meals began to disappear during India's green revolution in the 1960s, when the government hyped up high-yield crops of wheat and rice to increase the production of food for domestic consumption and export purposes.
Yet, buoyed by the government's substantial efforts to popularize millets, there are now tangible signs of a resurgence in interest toward these climate-smart crops, marking a potentially promising comeback.
A case in point is Reshma Thakur, who heads Dharti Food, a company producing millet-based noodles and soup.
Thakur's startup is among a select few that the Indian Institute of Millets Research (IIMR) in Hyderabad considers a success story, breathing new life into this miracle crop.
An environmental engineer by training, Reshma explained her transition, "During the Covid period when activities were limited, I chanced upon an advertisement from IIMR, inviting enthusiasts to start a millet-based venture. Inspired, I decided to make the shift."
"Innovation is indispensable in this line of work, as it helps prevent consumer boredom from repetitiveness. Currently, I'm invested in reinvigorating millet recipes and devising new dishes," said Thakur.
Her inventive approach seems to be paying off, as she is contemplating extending her menu, encouraged by recurring orders.
Gautam Dhandekar, who pursued a food technology course at IIMR, is setting up a startup that will offer a range of millet-made food in Mumbai.
"My prototype is complete, and we're now progressing towards installing specialized machinery, making this a unique millet-focused startup in India. We're actively recruiting chefs renowned for their skill in creating diverse millet dishes. Additionally, we're gearing up to produce millet-based food items with extended shelf lives, much like the other food products currently available in the market," Dhandekar said.
Dhandekar's choice to utilize technology over manual labor is a deliberate one, aimed at ensuring both hygiene and longevity in millet foods. He's already planning an enticing line-up of dishes that includes millet pasta, roti, cake, cookies, and dosa.
Against the grain
Mileto-G is another such small startup that offers millet meals and cookies in Jabalpur, Madhya Pradesh.
"People have an inherent desire to explore new flavors and recipes on a daily basis. I'm encouraged by the positive feedback from our customers and am making plans to grow our business. As pioneers in a relatively untapped market, the onus is on us to drive innovation and continually excite our customers with fresh offerings," Nagraj Singh, who owns Mileto-G, said.
Despite experiencing a surge of customer interest in millets during the past winters, Singh noticed a dip in demand as customers perceived millet-based foods to have warming effects.
Unfazed, Singh is now innovating summer-friendly recipes to promote millets as a year-round food choice, thereby dispelling seasonal misconceptions about the grain.
As Singh battles perceptions and climate to popularize millets in India, on the other side of the globe, Sam-Sathyamoorthi has embarked on a similar mission with a global perspective.
Born and raised in India, Sathyamoorthi left his full-time job last year to launch a venture in Canada. His passion: assisting Indian farmers in expanding their reach to overseas markets, ensuring they secure fair prices, and enhance their living conditions.
"Following extensive research, we chose millets as our primary product, driven by the vision to reintroduce this staple grain worldwide, thereby benefiting consumers, farmers, and the environment alike," Sathyamoorthi said.
Initially focusing on Canada, Sathyamoorthi began his business by importing and distributing millets to international consumers via online sales and retail stores. His product range has since broadened from millet grains to include flours, flakes, and ready-to-cook and ready-to-eat millet products.
"We have plans for expansion into other countries," Sathyamoorthi said. "The aim is to bolster the production volume of millets in India while keeping costs low, which can be achieved by supporting farmers with competitive pricing and higher-yield technologies."
Cost pressures
 Millets may come with benefits for the environment and nutrition, but it's not all that rosy for farmers who cultivate these crops.
In Hathras, Uttar Pradesh, Chote Singh and his family, who have been millet cultivators for generations, now face the troubling reality of low crop prices.
"We've shifted to crops like sugarcane and rice, given their superior market value," Singh told Press Insider.
Dhirendra Singh Solanki, who heads the Uttar Pradesh state wing of the Bhartiya Kisan Union, a farmers' grouping, voiced concerns about the central government's insufficient support for millet farmers.
"Despite the hype around millets, we're not seeing the benefits. Low prices persist, and international buyers remain distant," Solanki said.
Farmers from Maharashtra to Haryana are grappling with similar issues, including the absence of insurance and subsidies on fertilizers, while crops such as sugarcane and paddy yield better returns.
"Farmers receive a mere ₹160 per quintal for millets, which doesn't even meet the minimum support price. International interest in millets is practically non-existent, and the government lacks a plan to make millet farming lucrative," Solanki said.
Though challenges in the marketing and sale of millet crops, as well as the high costs associated with cultivation, have steered some farmers towards other crops, there is growing recognition of the importance of bringing in novel strategies to overcome these hurdles.
In Haryana, Bhartiya Kisan Union president Ratan Mann criticized traditional marketing as the only option for farmers, citing middlemen and a lack of awareness about support schemes as issues
"Farmers avoid millets due to high costs and low demand. They're becoming more knowledgeable about crop choices," Mann said.
Jagdish Singh, who heads the Madhya Pradesh Kisan Welfare Union, painted a stark picture of the farmers' struggles: "Farmers journey long distances, laden with hope, to sell their annual produce, yet frequently return, not only devoid of profits but often unable to recoup their invested costs."
Connecting the dots
In spite of these adversities, proponents still champion innovative strategies and a heightened awareness around millet cultivation and its consumption.
Anuradha Narala, a senior scientist at IIMR, envisages a promising trajectory for millets.
"Connecting the dots between value addition, startups, the private sector, and agriculture, while ensuring fair pricing for farmers, will be crucial," said Narala.
Coordinated efforts and increased awareness will allow millets to serve dual purposes: compensating farmers fairly and meeting India's and the world's food security and nutritional requirements, Narala said.
To realize this vision, Narala advocates for initiatives that enhance value at the farmer level, like the formation of self-help groups and the distribution of high-quality seeds for better yields.
Supplying high-quality seeds to reap high-yielding varieties and the release of new forage varieties are also parts of the efforts to bolster millet production.
However, not all farmers are optimistic.
Pushpendra Singh, a cultivator from Ita, Maharashtra, said: "Relying on millets places us at the mercy of market merchants or forces us into debt to meet our daily needs."
Singh views the return of ₹1,700 per quintal as a fruitless endeavor for his village's millet farmers. Nevertheless, he acknowledges the potential advantages of millet cultivation, should the government enhance marketing facilities and storage capacity.
Wheels of progress
There's a shared optimism among farmers that with the right support, millets could indeed yield substantial returns.
Parallelly, the wheels of progress are in motion to unlock the full potential of millets through technological advancements.
The Nutrihub at IIMR has played a key role in this, having incubated around 200 millet-centric startups and successfully granted licenses for about 75 technologies that add value.
India is on the brink of an era where it is not merely maintaining its leadership in millet production, but also transforming the livelihoods of its farmers, carving out new paths of prosperity.
As challenges are met with proactive measures and innovative solutions, the future of millet farming appears promising in a testament to the resilience of the farming community and the unwavering commitment of research institutions and the government to maintain India's standing as a global leader in millet production.